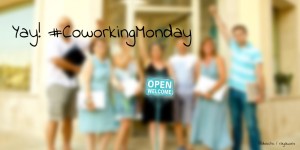 This post is by Doris Schuppe of Rayaworx Coworking.
At the Coworking Europe Conference in Milan, Rainer from Rayaworx introduced the idea of CoworkingMonday in his session. The feedback was very positive. So we would like to spread the word and invite every coworking space out there to combine our forces to get more visibility for coworking.
One thing all of us learned in Milan: knowledge about coworking did not spread that fast and consistently one might think. There is a huge potential of freelancers, knowledge workers, commuters, etc. lacking any experience or familiarity with the new work's concept.
Seeing is believing: We need to attract people to our spaces, and let them feel our community spirits as openness, collaboration, networking, cooperation, knowledge-sharing.
The #CoworkingMonday vision
Every coworking space around the world uses CoworkingMonday events to promote coworking and to let people experience how coworking is more than just a space to work.
The CoworkingMonday is an informal, community-driven event that aims to connect people who are shaping the future of work.
Anyone involved in coworking or neighboring fields who is interested in learning and sharing with others is most welcome to join. Whether you are a thinker, builder, designer, trainer, founder or funder – CoworkingMonday is your platform to share your knowledge, to help others with business-relevant advice, or to share your next big idea to a growing audience of coworking aficionados.
The CoworkingMonday is organized by coworkers and coworking hosts with speakers / sessions / workshops / networking / … about everything that is related to coworking and the future of work.
The CoworkingMonday takes place in a coworking space once a month on a Monday. In a bigger city with lots of coworking spaces it might be a good idea to have a monthly CoworkingMonday each in another of the town's spaces.
In a region like e.g. Southern Bavaria or Mallorca the hosts may think of an additional CoworkingMonday regional event: 6 or 4 times a year the coworking spaces coordinate a CoworkingMonday visiting each other.
The organizers feel free to choose the timeframe for their CoworkingMonday: the event might be a breakfast, a morning workshop, a lunch break event (like a lunch & learn meeting or open salad networking), an afternoon session or an evening function – it's up to you!
Some buzzwords may help to find relevant topics and speaker/s for your next CoworkingMonday: Blogs, Collaboration, Collaboration Tools, Coworking, Creativity, Design, Financing, Future of Work, Photography, Gadgets for Work, Get Things Done GTD, Knowledge-Sharing, Marketing, Mobile Apps for Work, Nerd Culture, Networking, Online Design, Online Relations, PR, Security, Social Media, Social Networks, Startups, Sustainability, Usability, Voice over IP, Webdesign, Workspace Design…
A global directory will list all CoworkingMonday activities worldwide.
The global hashtag #CoworkingMonday combines all activities and will provide visibility to our efforts.
Does it work? Some background from WebMontag
In Germany we have a long-standing tradition of "WebMontag" (WebMonday) since 2005. Whenever it was possible, I attended those events in Munich, where I lived before moving to Mallorca. Maybe you went to a WebMonday in your city, too. If this is not the case, please read their explanation:
Web Monday is an informal, non-commercial, and completely community-driven event that aims to connect the people who are shaping the future of the internet. Inspired by the culture of Silicon Valley, it started out in Cologne, Germany in late 2005 in an effort to help spread those sunny California vibes.

Since its inception, Web Monday has spread fast: meetings are now being held on a regular basis in 40+ cities all across Germany, Austria, in Switzerland, Sweden as well as in the Silicon Valley. Nurturing the local web 2.0 and internet startup scenes, Web Monday's 100+ meetings have attracted 1,000+ repeat participants so far, and good things have come out of it.

(quoted from Web Montag)
So I thought, we should learn form the WebMontag's tradition by adopting it with relevant topics of our coworking community. I think at least sometimes a CoworkingMonday may cooperate with a local WebMonday initiative.*
CoworkingMonday – when do you start?
Are you in? Give us a shoutout via comment or even better by sharing this blog post with the hashtag #CoworkingMonday. Or plan the first CoworkingMonday event in your space? Let us know!