By Angel Kwiatkowski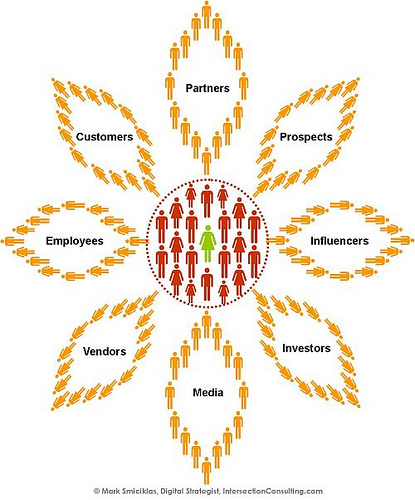 Coworking spaces (and their members) often spend time building connections with other coworking spaces or groups of technically creative people, but it's important to remember that a coworking facility is still part of the larger, conventional business community (which happens to be struggling right now).
Being different from the common vision of an "office" or a "job" doesn't mean that coworkers should abandon the 9 – 5ers all together. Sometimes the bridges built between coworking spaces and the larger community are the most important for a healthy business ecosystem, and coworkers should be willing to put the first stepping stones in place.
Host Classes/Workshops/Seminars That Are Open To Non-Members
Whether it's tips from an outside tax expert or a workshop about how to network effectively, chances are that small business owners or even cubicle-dwellers could benefit from the knowledge as well. Opening up some of your functions to outside individuals is also a great way to give people a peek into everything they're missing, and an easy way to bring in a few extra dollars of revenue.
Support Other Local Businesses
A group of dedicated, well-connected coworkers is a powerful market segment for any new business. Take the time to introduce yourself to the owners and managers of storefronts that you frequent, and be sure to mention that you're there because you cowork nearby and you like to support local business. Not only will they become aware about a new way of working, it might even spark a discount for coworkers or create an opportunity for collaboration.
Develop A Resource Reputation
A room full of healthy, motivated, independent professionals is a dream come true for a future business owner. Instead of thumbing through a Chamber of Commerce directory or (gasp!) venturing into the wilds of Elance or Freelancer.com, a coworking space provides the business ecosystem with a rich pool of pre-approved talent. All you have to do is find a way to let your community know that this talent exists and is ready to help.
What other ways does your coworking space contribute to the health of the larger business ecosystem?
Image Credit: Flickr – Intersection Consulting
Comments
comments