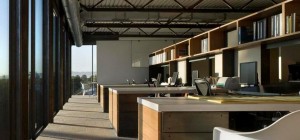 Union WorkSpace is a collaborative office concept catering to today's independent professional. Uniquely situated in one of Phoenix's most architecturally advanced office buildings, Union offers sophisticated work space to small businesses. Building off of the "coworking" platform more frequently seen across the World, Union WorkSpace is Phoenix's newest coworking space.
Union WorkSpace members are fully supported with amenity rich services that include custom built desk space, Herman Miller task chairs, Wi-Fi, conference room access, mailing address, print/copy/fax capabilities, amongst other things.
"I wanted to create something that provided the stable platform needed to develop and grow your business and assist in helping you achieve the goals you've set forth", added founder Austin King.
Union WorkSpace is set up in an open community format, designed to foster creativity, networking, and relationship building. It's a place to not only get work done, but create lasting relationships and establish strategic business alliances.
To schedule a visit, please contact Austin King at 602.330.6215 or [email protected].
You can also follow Union WorkSpace on Twitter and Facebook!
Comments
comments