Note:  This blogpost was written by Faraz Majidulla, of  Astana Multispace, as part of an informal series to introduce us to Coworking spaces and how they function all over the world.  So let's start the series off with a little bling bling from Kazakhstan.  
Thanks, Faraz!  
______________________________________________________________________________
Kazakhstan is the ninth largest country in world based on land mass but only boasts a population of about 18 million people.  Astana is the newly formed capital city and it hosts some of the world's best new age architecture, from the Norman Foster designed tent shaped shopping center, Khan Statyr, to the multiple new skyscrapers scattered around the city.  One of the most fascinating sites in the city is the Batirek monument, which towers over the city and from the top gives you the best view of Astana.   Kazakhstan is most famous for being an oil rich country but it also has abundance of other natural resources like: gas, gold, copper, uranium, which has given it the opportunity to attract investors from all over the world.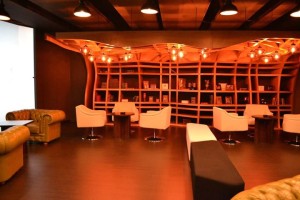 Coworking is a relatively new concept in Kazakhstan and most people are yet to grasp it.  With Astana Multispace being the first real coworking in Kazakhstan we have been entrusted with not only providing world class services that coworking members around the world are accustom to but also with educating the public on how coworking can help them.
Astana Multispace is situated on the top floor of Astana Mall, one of the most popular and unique malls' in Astana.  The mall has previously hosted many concerts featuring some of the region's most famous talents.  It has also hosted other great events like drift racing competitions in the underground parking lot and MMA fights in the middle of the mall.  All of these things have helped make Astana Mall one of the destination spots in the Astana.  In recent months however the trend has changed as most people are visiting the mall for more business oriented events that are generally hosted in Multispace.  On a daily basis there are hundreds of people coming for seminars or conferences hosted by the likes of big financial institutions, the national railway company, big oil companies, and big media institutions.
Multispace is considered to be the 'third place' filled with eager entrepreneurs, creative designers, and inquisitive journalists.   The sensible design gives it unique ambience that makes it comfortable whether you want to work or relax.  Our design is often compared to Google Office designs.  There are a host of different types of workstations available, individually themed private meeting rooms, a large conference room, a library, an amphitheatre, individually themed private offices, a cigar lounge, a coffee shop and relaxation area.  In addition to this there is a reception area that offers a concierge services.  In Multispace we focus on giving our coworkers the right 'props' and best possible conditions to achieve their goals.  This includes high-quality eco-friendly furniture, proper lighting, and the ability to relax in the special twilight recreation room, this is all so that people can work more productively. Our main task is to give young entrepreneurs a new lifestyle.
The future of coworking in Kazakhstan looks very bright as more and more people are choosing this concept opposed to the traditional office.  Most of our coworkers claim that it would be near impossible to switch back to the old ways and see this as the better alternative.   The reason for this is mostly the social aspect that has been injected into their work life making them more open to new ideas and productive.
Comments
comments