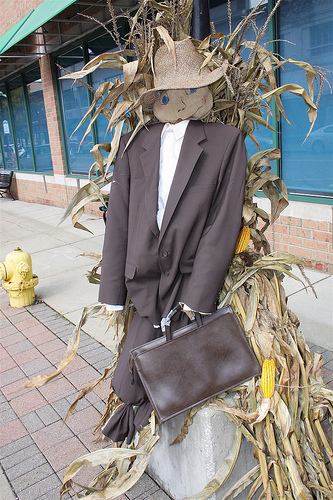 By Angel Kwiatkowski
What's the first thing you think of when someone says they want to be "more professional?"
Most envision a freshly-pressed business suit, a noose tie, and maybe an ever-mysterious briefcase.
But these are merely the outer vestments society tells us to associate with a business-person. "Being thought of as a professional is not all suit and tie. It's not all about qualifications either" (Employee Evolution). It's about how you present yourself and the environment in which you operate.
As an independent, freelancer, or small business owner, the level of professionalism you bring to the table decides whether your client recommends you to a friend, or asks you back for another project.
Freelancers are constantly fighting the common misconception that we all live in our pajamas and hate social interaction.
So here are 3 important ways that coworking can help you become a better professional and get respect in your industry:
1. An address – Starting a small business often requires you to have a business mailing address, and most people opt for inconvenient (and sometimes expensive) post-office boxes. Many coworking facilities will allow you to receive mail on-location, saving you money, and giving your business a more concrete appearance on paper.
2. A place to meet clients – Ever tried to land a sale on the phone with the kids screaming bloody murder in the background? Or arranged a meeting with an important business partner at a coffee shop only to discover that they were having open-mic night? A perk of many coworking facilities is that they offer clean, quiet conference room space as a benefit of membership.
Note to space owners: if you're not offering conference space, realize that this could be a deal-breaker for new members. Also, make sure the meeting space you offer is bright, clean, and features tables, chairs, presentation tools, and other things that will make your members proud to bring their clients there. Shoving a table into a dimly lit backroom doesn't count.
3. Social skills – When you're holed up in your basement or home office for days at a time, it can be easy to forget that teeth-brushing is a daily necessity, or that you're not the world's greatest authority on grammar. Coworking gets you out of the house, encourages showering, and reminds you that you have allies (and sometimes competitors!) in your field. Taking advantage of their collective brain-power can help you make tough decisions and avoid mistakes, but you have to show up first.
Has coworking helped you to be taken more seriously as an independent professional? Share it in a comment!
Image Credit: Flickr – battlecreekcvb