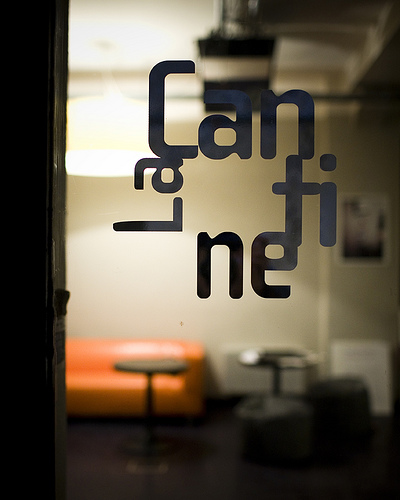 We are happy to announce to you that La Cantine by Silicon Sentier is opened since 30 january 2008.
This is a networked collaborative workspace which facilitates conception and emergence of initiatives, new uses, products and services by accelerating ideas, creation and networked & open innovation.
Additionally, La Cantine is openned up to international networks (co-working, art-oriented platforms, alternative venues, competitive clusters, specialized research labs, colleges and universities).
Both a place of exchange and a technological showcase, La Cantine is open to professionals, tech enthusiasts and everyday users. Its 200 square meters dedicated to ascending innovation welcome all contributors to digital life.
3 fully-configurable, connected spaces, equipped with high-speed broadband:
– a Café space dedicated to meetups, information, exhibitions and project testing
– a collaborative space dedicated to project development
– a brainstorming and meeting space
At La Cantine you can
Think: meet at the Café any time of the day to exchange and get informed
Work: rent a collaborative workspace for short periods at affordable rates
Test: test products and services in development to get feedback from La Cantine's community of users and creators.
Discuss: organize or take part in discussions and make your point at various innovative events involving a wide audience
This new collaborative space in Paris is open to all co-worker in the world.
Silicon Sentier, the Paris-based digital start-ups association, initiated the project.
Partners of La Cantine : the Ile-de-France region, Orange, the Fondation Internet Nouvelle Génération and the Cap Digital competitive cluster.
La Cantine is located in a covered passage between La Bourse and the Grands Boulevards.
151, rue Montmartre, 75002 Paris
12, Galerie Montmartre, Passage des Panoramas
Tel : +33 1 40 13 64 40
Photos, program and information on:
To stay informed about La Cantine
Press contact
To submit an event
Comments
comments