by Angel Kwiatkowski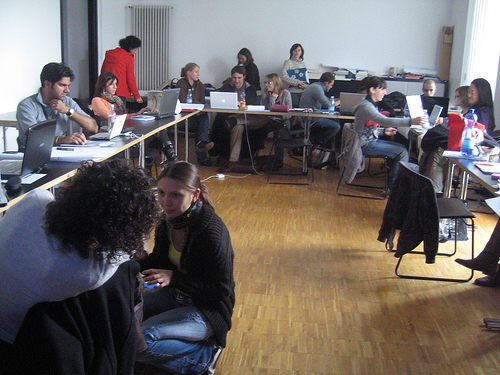 A story on NPR's program All Things Considered talks about coworking. Okay. Not quite. But it does discuss one of the key components of successful coworking: collaboration.
Key in NPR's study was the point that equal participation in problem-solving fostered more innovative solutions. The research points to why and how getting a group of people together to solve a problem is not so much about getting the "smartest" people together, but instead is about equal participation and multiple perspectives from people in the group.
A group of people. Equal participation and multiple perspectives. Hm…that sounds a lot like coworking.
Taking a cue from the NPR story, here are some ways problem-solving in groups might be useful in coworking:
You—the coworker—have a challenge in your work.
Can your coworkers help you overcome a client/work challenge? This is especially effective if you ask nicely.
You—the coworking space catalyst—have a challenge in your space.
Can the coworking community help you brainstorm solutions to that challenge? Or can you hop on the Coworking Google Group to ask your online coworking community for ideas?
You—the coworker OR coworking space catalyst—have a challenge in your local community.
Can coworkers go beyond their coworking space walls and contribute their smarts to a local challenge? This, of course, requires extra time and energy beyond work. But you never know what sorts of beneficial connections could be made in the local community (perhaps resulting in new clients, new work, new ideas!).
You—the interesting person.
Sometimes, it's simply about getting interesting people together to see what interesting things they come up with. (And if that sounds vague—it should! The possibilities are as limitless when it comes to grouping together independent, creative, community-oriented coworkers.)
Although coworkers tend to be highly independent individuals, problem-solving in groups is where the real magic happens in coworking. This type of problem-solving has so many advantages—seen, for example, in the rise of collaborative consumption. So try problem-solving in a group—and let us know how it goes.
Image Credit: Flickr – Peter Samis